<!-Lemon Chiffon-> Welcome to the
Lutz Info Page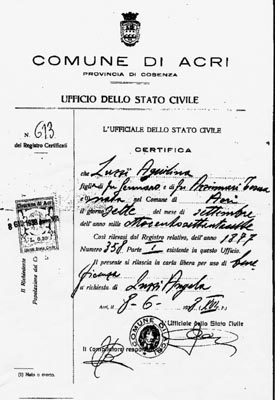 Translation of Aqualina Official Birth Certificate
Township of Acri, Province of Cosenza, Office of Civil State
No. 673 Register of the Certificate.
Certification of Luzzi Aqualina daughter of Gennaro and of Azzinnaro Teresa born in the township of Acri on the 7th. day of the month of September in the year of one thousand eight hundred seventy seven. This is explained at the Registry relating to the Year 1877 No. 358 Part one existing in this office. The present is released in plain paper for use to benefit the request of Luzzi Angela.
Released Acri June 8, 1938
---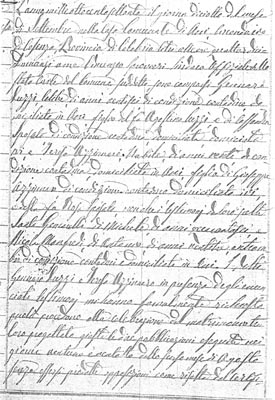 Translation of Published Marriage Certificate of Gennero Luzzi and Teresa Azzinnaro
Number 57 Luzzi Gennaro Azzinnaro Teresa Year 1870 day 18 of the month of Sept. in Acri Cosensa Provence of Calabria at 2:00 PM. Before me Vincenzo Spioueri Mayor Official Civil State town appearing before me Gennaro Luzzi, single 26 years old occupation farmer housed in Acri, son whose Father was Agosino Luzzi and of Cassandia Sposato occupation farmer lived in the same place. Teresa Azzinnaro 20 years old occupation farmer lived in the same place Daughter of Gusippie Azzinnaro, farmer living here whose Mother was Rosa Sposato. Chosen by them Sonti Geniarelli son of Michael 46 years old and Nicholas Manfredi son of Antonio 27 years old both farmers living in Acri. Gennaro Luzzi and Teresa Azzinnaro in the presence of witness requested from me to proceed to the celebration of Matrimony 2 publications, 21st day and the 28th day of the month of Aug. without any opposition to the marriage resulting from my legal papers by me given to them on this day.











---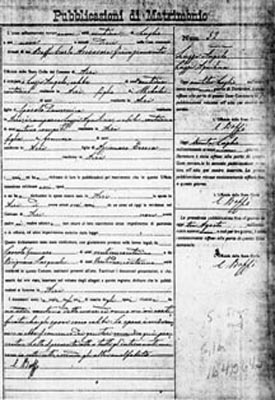 Translation of Published Marriage Certificate of Angelo Luzzi and Aqualina Luzzi

1899 the 22nd. day of July at 9:10 am at city hall before me Baffi Carlo, Assessore Official of the State of Acri. Luzzi Angelo, single 22 year old farmer residing in Acri. Son of Michael, residing in Acri and Mother Sposato Domenica, residing in Acri. Appeared Luzzi Aqualina, single farmer 21 year old residing in Acri. Daughter of Gennaro residing in Acri and Mother Azzinnaro Teresa residing in Acri. Who have requested to have the publication for the marriage which they intend to celebrate in this office. The groom born in Acri and the Bride born in Acri state that they have had a residence in Acri for a year. They don't have adopted parents, nor impediments to the marriage by relationship nor any other established by law. Offered under oath by 26 year old farmer Sposato Gennaro and 22 year old farmer Bisigorano Pasquale. Having examined the documents , which they present and which I have seen and enterded into the regestry in Acri. The documents are copies of the birth of the Bride and the Groom given to me on the 21st of this month. I read all of this to them, the interested parties and signed it, because they could not read or write.

Num. 52
Luzzi Angelo
Luzzi Aqualina
The 23rd. of July (Sunday) posted the 1st bands of marriage on the door of City Hall.
The 30th. of July, the 2nd bands
The 3rd. of August, the 3rd bands


---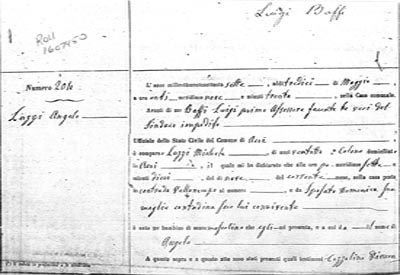 Number 204
Luzzi Angelo
1877 on the 13th.of May at 9:30 am in City Hall before me Baffi Luigi 1st. accessor taking the place of the Mayor who could not be there. Appeared before me Luzzi Michael 48 who lives in Acri. Declared that at 7:10 pm of the current month, in the house on the street in the Farming district with his wife, a farmer who lives with him. Was born a baby boy which he shows to me and to whom he gives the name of Angelo.
And the witness to the above that were present was Cozzolino Vincenzo
---
DIRECTORY
---
© 2002. Paul J Gatto. All Rights Reserved

You can reach me at my
e-mail address.
Click on this house to return to my home page