<!-Lemon Chiffon-> Welcome to the
The Ship Information Page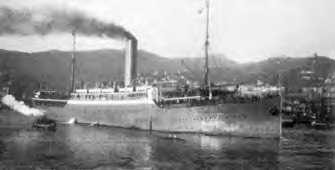 Built by Armstrong, Mitchell & Company, Newcastle, England, 1904. 7,028 gross tons; 420 (bp) feet long; 51 feet wide. Steam triple expansion engines, twin screw. Service speed 14 knots. 1,630 passengers (130 first class, 1,500 third class). Built for Lloyd Italiano, Italian flag, in 1904 and named Maritzburg. Launched as for the Bucknall Steamship Company, British flag service. Completed for the Italians as Mendoza. Transferred in 1904 and renamed Mendoza. Italy-South America and later Italy-New York service. Renamed Caserta in 1913. Sold to La Veloce Line, in 1923 and renamed Venezuela. Scrapped in 1928.

This is the ship (The Mendoza) that Grandmom Anna Pinzone (Gatto) came over on to reach America on Nov.14,1912. She departed from the port of Messina on Oct. 28, 1912. With her were her two daughters, Aunt Nancy (Maria Nunziatta) Gatto/Capizzi and Aunt Rose (Biagia) Gatto/Price. They were going to meet Grandpop Biagio who lived at 821 Christian St. South Phila. They all originally came from
Bronte, Sicily.
Take your time and explore this land that our relatives came from. Make sure you check out the Annunziata Church, which is where I believe Grandmom and Grandpop were married in and that Aunt Nancy(Maria Nunziatta) and Aunt Rose(Biagia) were baptized in----but be sure to come back (you can use your "BACK" arrow up on the toolbar).
Lupo Decendants link page shows Anna (page 22) and her family on her Mother Saveria Lupo's side going back to 1700 (page one) and going up to page 57.
PDF File.
----but be sure to come back (you can use your "BACK" arrow up on the toolbar).

This is a photocopy of the original ships manifest, pages 1, 2, 3 and 4.
Grandmom Anna is on line 06. Click on any one for a seperate larger view of it





Click Here
To go back to the Gatto Connection
---
© 2002. Paul J Gatto. All Rights Reserved

You can reach me at my
e-mail address.
Click on this house to return to my home page